You want your BBQ or Roast event to be remembered for all the right reasons so avoiding food contamination is crucial. Food Hygiene is important from go to whoa, from appetizers to desert, from breakfast to dinner, during preparation and cooking, and concerns your cooking equipment, bench tops, utensils such as pans, knives and stirring spoons, and your clothes, gloves, hands, body – everything! Here are few reminders for good food hygiene practices.
1. Clean and Sanitise Surfaces and Utensils
Ensure food scraps are cleaned off surfaces of cooking equipment, preparation benches and utensils. After cleaning, you can also use a sanitiser to kill any final microorganisms that may be lingering, then rinse and allow to dry. Also between your parties and entertaining events, regularly clean and sanitise your chopping boards. Bacteria can build up in the nicks and grooves of worn boards. Clean preparation surfaces in between food handling. And be sure not to put your cooked roast or bbq meat back onto the unwashed plate or tray which had raw meat on it.
2. Avoid Loose Clothing and Accessories
Consider your clothing and accessories during your food handling. Jewellery should ideally be removed. Pendants, earrings, and rings can easily come loose and end up food. This happens all too easily. Any loose items that scarves, ties, cords, long sleeves and loose cuffs should be secured or removed as these can spread bacteria.
3. Wash Effectively
The water used for cleaning should be ideally warm to hot water. The recommended water temperature range is generally between 54 – 60 degrees. However excessively hot water temperatures could bake food residue onto surfaces. Effectively cleaning produces a result that should look, feel, and smell clean!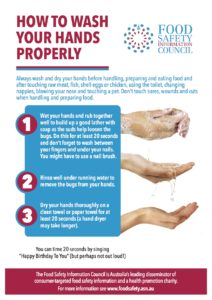 Source: Food Safety Information Council (Australia) http://foodsafety.asn.au/
4. Cover Up Cuts
Cover any cuts or scratches on your hands and arms with a bandaid or adhesive stripes. Go fo a brightly coloured, waterproof bandages/food safety adhesives, just in case…Of course you can also choose to go pro like a caterer and wear disposable gloves to cover any wounds on your hands. Just make sure you change the gloves regularly or sanitise them throughout your food preparation or else the gloves can just become a hygiene hazard themselves.
5. Stop The Spread
Germs can easily spread germs doing simple tasks that may not seem that risky. A a brush or wipe of your eyes, ears, mouth or children that may have an infection, or super quick pat of the cat or dog, or touching contaminated surfaces such as in the bathroom, doors or playgrounds, or of course handling rubbish bags or bins. Stay safe by washing your hands before you handle any food.
Follow these five tips and you'll be a food hygiene hero! It's easy to avoid contamination when catering for your guests. Read and practice these reminders and safe food handling will become second nature. If you have any questions or concerns about your ability to safely prepare food for your guests, speak with a professional caterer. Caterers must complete Australian certifications for food handling and all staff must adhere to these national standards to work at and manage events.