Online Quote
A delicious roast feast – That's all I want for Christmas!
Celebrate Christmas with your friends, family, or colleagues with professional catering from Victorian Golden Roast. Enjoy a carved up roast to share and a buffet of all your favourite vegetables, salad dishes, and finger food. When it comes to Christmas party catering, our team has you covered from start to finish.
To cater to your Christmas budget, Victorian Golden Roast's services are created to be as flexible as possible:
Choose any menu and extras of your choice
Combine any spit roast menu, finger food menu, platters and any additional items
Choose pick up, or delivery only, or carve, serve and clean up
Quality reusable dinnerware and cutlery included at no additional cost or, upgrade to crockery and stainless steel cutlery for an additional fee
Christmas party catering services available 7 days a week, day and night (Christmas Day, December 25th bookings will incur a surcharge)
Party catering services available across Melbourne CBD, metropolitan and surrounding areas.
Minimum booking numbers: 30 people. Classic Spit Roast menu: 20 people
Wait staff are available for hire
Vegetarian and gluten-free catering options available
With two decades of industry experience and a strong network of local and regional suppliers, we can provide high-quality produce and services at great value prices. Whether it's Christmas in July or your end of year event, a spit roast is the perfect way to celebrate.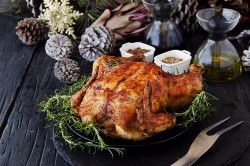 From Christmas Party Buffet Catering to Delicious Spit Roasts
Enjoy your favourite Christmas foods with the best Christmas party catering in Melbourne. Our Spit Roast Menus include juicy meats such as crackling roast pork with apple sauce, tender marinated roast beef with piping hot home-style gravy, hot roast chicken with traditional gravy, or succulent roast lamb with mint sauce. Add to this a selection of fine foods from our Christmas party buffet catering menu. Choose from vegetables of your choice including hot jacket potatoes with sour cream, baby carrots in honey, roast pumpkin, or salads.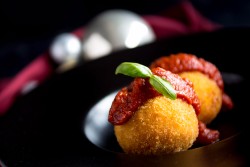 The Best Option for Christmas Festival Food Catering
Whether you're catering for a Christmas festival or a festive office party, finger food is a great option for everyone. Choose a Christmas Finger Food menu to suit your crowd – from classic wontons and spring rolls to fresh oysters and mussels. If you want to go traditional, consider Italian bruschetta with pumpkin & feta arancini balls and meatballs. Select mini tarts, gourmet quiches, and petite pies, or enjoy a range of gourmet Asian flavours including Thai dumplings, king prawn tails, satay skewers and sushi. Additional seafood, meat, and cheese platters are also available.
Submit an online quote enquiry to find out how tasty, affordable and hassle-free your Christmas meal could be! We'll respond to you with a couple of hours during business hours.