Online Quote
WEDDING CATERING MELBOURNE
When it comes to wedding catering in Melbourne, we are proud to provide high quality produce, menus, and catering services at great value prices. With over 20 years of wedding catering experience, Victorian Golden Roast knows the importance of flexible menus and staff who offer precise scheduling and services. We create delicious, great value feasts – matched with your unique style and décor, ensuring your dream wedding reception is achievable on a budget.
For the best wedding catering Melbourne has to offer, get in touch with our team today. When it comes to catering companies for weddings, Victorian Golden Roast offers the very best.
Spit Roast Catering For A Wedding
Spit roasts are an ideal way to provide a gourmet main meal at an affordable price. If you're considering budget wedding catering that doesn't sacrifice on quality, this could be the ideal option for you.
From simple tastes to refined palettes, roasts are a crowd pleaser and signify a special occasion to be shared with loved ones. The perfect catering for weddings in Melbourne, our spit roasts are slow-cooked over 13 hours and the tender, succulent, aromatic meats help make are a memorable event experience.
Whether you choose spit roast catering or finger food, Victorian Golden Roast can also assist you with comprehensive catering services for weddings. From supplying and cooking your food to professional service, we do it all.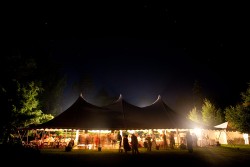 Wedding Finger Food Catering
Our finger food feast menus for wedding catering range from classic to the exquisite. We have sourced the most popular flavours, ingredients and canapé menu items, meaning we're sure to have the perfect option for your tastes. Choose freshly shucked oysters for your guests to enjoy with drinks after the ceremony, or select sliders, spring rolls & skewers to tantalise the tastebuds.
We tailor each menu to your tastes, meaning the choice is yours. From finger food catering for weddings to wedding buffet catering in Melbourne, Victorian Golden Roast does it all.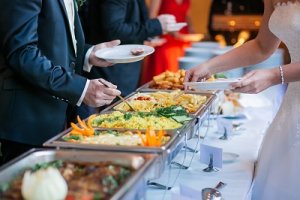 Wedding Catering Services
Catering a wedding in Melbourne is about more than just the food. At Victorian Golden Roast, our wedding caterers will meet all the needs of your special day, from customised menus to vegetarian and gluten-free options, and wait staff available for hire. Our wedding catering services offer Melbourne a comprehensive solution. Whether you're in a backyard garden, a community hall, parks, holiday homes or riverside and beachside locations, we can come to you. Of course, locations close to power and kitchen facilities are ideal, and an additional travel fee may apply for locations outside our Melbourne weddings service area.
Relax and enjoy your wedding with great food and great people. From wedding finger food catering in Melbourne to complete wedding reception caterers, we're here for you.
With Victorian Golden Roast, it's your choice, your style, your budget. Contact us to discuss options and ideas. We'd love to cater your wedding.