Online Quote

Gourmet Finger Food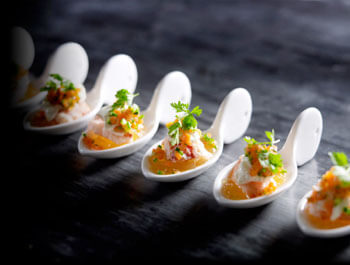 Gourmet Finger Food

Gourmet Finger Food
Gourmet Finger Food Menu       Prices from $14.45 per person
Our delicious
finger food catering Melbourne
menus offer both hot and cold selections, prepared and served by your Waiter/Waitress on garnished platters. Also included are napkins and all dipping sauces to compliment the finger food.
(V)
Vegetarian We offer a choice of 6, 9, 12 or 15 portions per guest. Use our instant quoting tool below to calculate menu costs.
Main
Japanese Delicacies: California Rolls; Nori Rolls and Sushi served with wasabi and soy sauce
Chicken Satay Skewers: Mildly Spiced Chicken Skewers served with Thai style satay sauce
Mini Mignons: Lamb & Bush Tomato, Peppered Beef and Cajun Chicken Mignons wrapped in Bacon
Thai Chicken & Bok Choy Tallys Dumplings flavoured with Tom Yum & Coriander served with a sweet chilli sauce
Petite Pies: Curried Chicken and Vegetable, Lamb and Rosemary and Peppered Steak
King Prawn Tails: Fresh from the sea and served with a duo of dipping sauce
Fresh Oysters: Freshly shucked and served with Wasabi mayonnaise
Chicken Breast Goujons: Fingers of tender Chicken breast served with a Chilli Plum dipping sauce
Tiny Tarts: Goats Cheese and Caramalised Onion, Green Curry Chicken and Coriander, Olive and Bocconcini and Ratatouille tarts served in individual foil cups
Smoked Salmon: Smoked Salmon portions topped with Ricotta Cheese and served on Melba Toast
Melon & Prosciutto Slices: Sweet slices of rockmelon wrapped in dry cured, classic italian ham (subject to availability)
Optional Extras
A DELICIOUS SELECTION OF PLATTERS
To compliment main meals (min. 30 guests)
Fresh Seafood $6.95 per guest Seasonal seafood including Oysters, King Prawn, Crab Meat & Mussels(Subject to Availability)
Assorted Cold Meats $2.35 per guest Includes Ham, Mortadella, Salami & Turkey Cold Roast Chicken $2.90 per guest
Mixed Meats & Cheese $2.35 per guest
Antipasto $3.95 per guest Includes Sun-dried Tomatoes, Continental Meats, Olives & Cheeses
International Cheese Platter $3.95 per guest – Includes a fine selection of gourmet cheeses and biscuits
Fresh Fruit Platter $2.95 per guest
Please Note
To present your finger food feast, we recommend you utilise the services of professionally trained personnel who can attend your function, prepare and serve the food, and clean up. The number of staff required will vary according to the number of guests.